Immersive Modular Patient Care Team Trainer™
IMPACTT™ Military Patients
IMPACTT™ Commercial Patients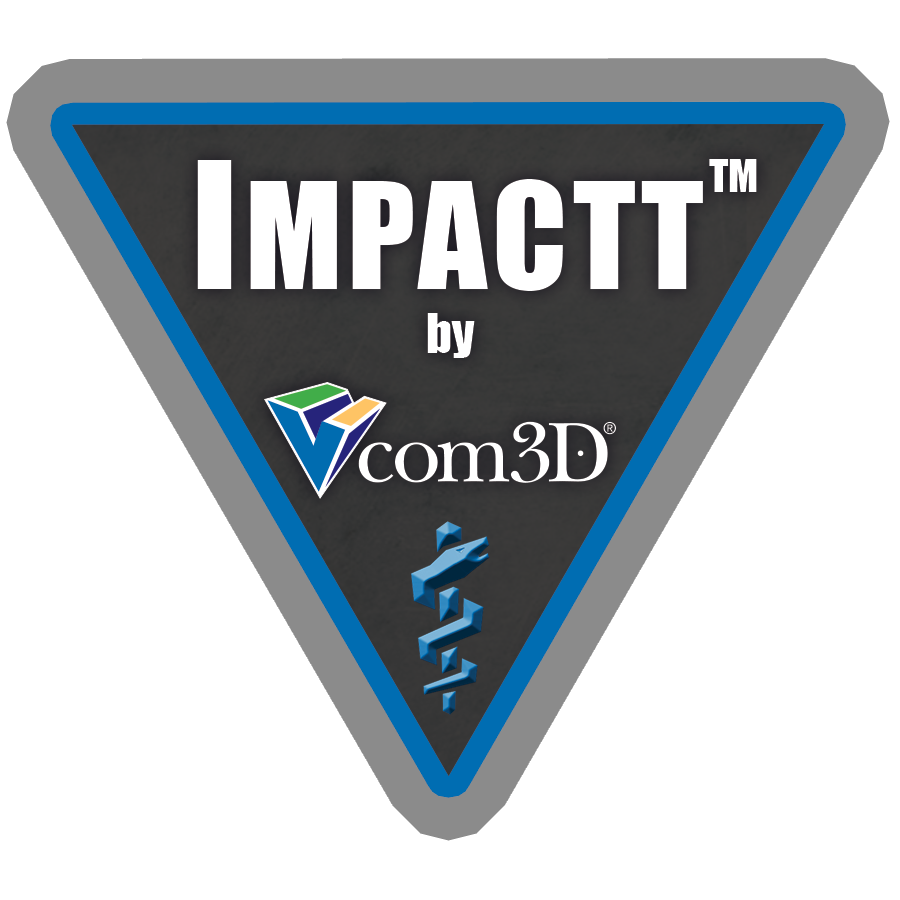 About the IMPACTT™
On-Site System
The IMPACTT™ On-Site Team Trainer supports the training and assessment of clinical diagnosis, critical decision-making, and interprofessional teamwork in emergency medicine. Using the Immersive Modular Patient Care Team Trainer, multiple learners participate in the shared experience of treating realistic virtual patients whose vital signs, diagnostic tests, and medical outcomes depend on collaborative decision-making, as well as the individual skills of each participant.
A user-provided large flat screen monitor provides a consistent overhead Shared Virtual Patient view of the patient's appearance and behaviors, and of each intervention initiated by the learners, including the patient's response. Each learner also has a tablet with a personal view of the patient. In this view, they can maneuver around the patient, zoom in to a selected body area, or perform an intervention. Interventions can be performed by tapping on a body part and then selecting from alternatives displayed in context-sensitive radial menus.
An IMPACTT™ On-site System includes:
• A Compact Core (Blue Box) that includes Communications Hardware, Simulation Management Software, and Physiology Engine
• Five (5) Learner/Instructor Tablets each of which is pre-loaded with both Learner and Instructor/Assessment apps.
• Five (5) Virtual Equipment (VE) tablets, each of which is pre-loaded with Seven (7) Virtual Equipment simulations (2 Patient Monitors, 2 Ventilators, Triple IV Pump, Urine Gauge, and Lab Tests)
• An Instructor PC that includes the Shared View display application.
• Carrying Case for all components, suitable for checked airline baggage.
• Installation and Operation Guides.
IMPACTT™ supports two training modes for each patient case:
• Team Communications Training. This mode emphasizes the deliberate use of teamwork protocols such as TeamSTEPPS®. Learners are assessed on their use of closed loop communication, clear assignment of tasks, identifying concerns, and other teamwork strategies.
• Emergency Medical Treatment Training. This mode emphasizes the protocols and critical decision-making of Advanced Trauma Life Support (ATLS), Advanced Burn Life Support (ABLS), and other guidelines for emergency intervention.
IMPACTT™ On-Site Instructor App provides the instructor with:
• A Dashboard to load scenarios and monitor simulation sessions.
• Both Teamwork and Cognitive Assessment screens that automatically record learner actions and instructor observation inputs.
• The ability to store time-stamped learner performance data for analysis, scoring or after-action review.
For more info on IMPACTT™ On-Site, click here.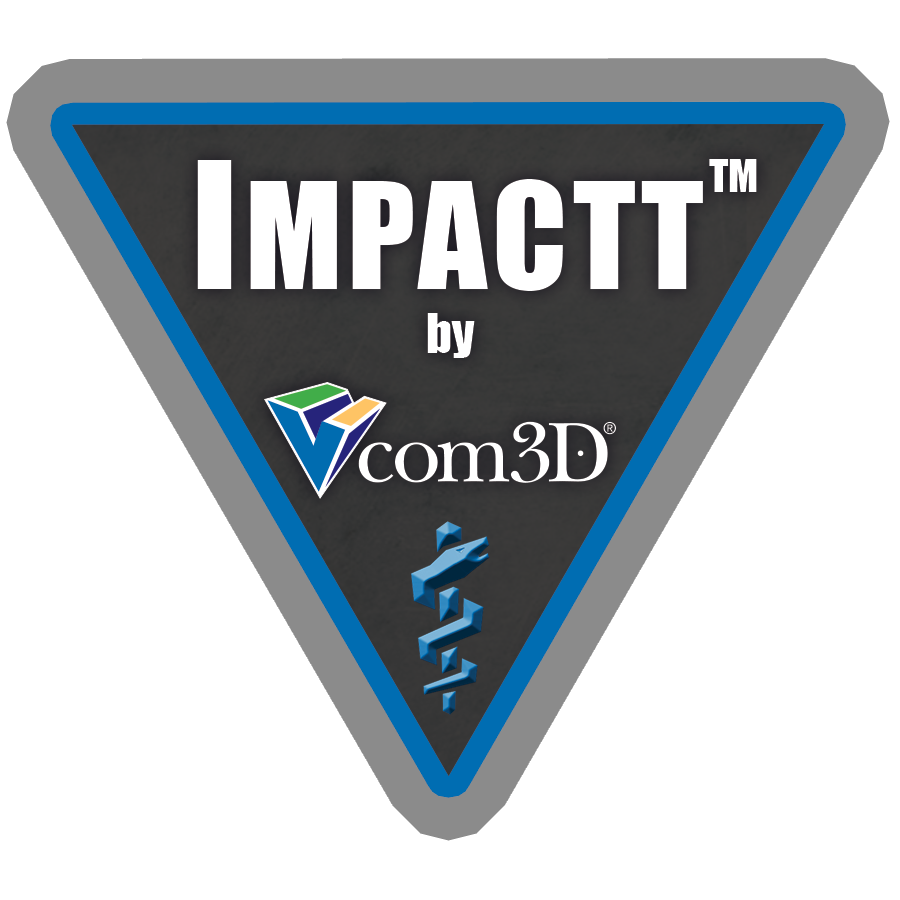 Learner & Instructor Tablets
For each scenario, a learner assumes a role such as Physician, Nurse, Technician, or Respiratory Tech. The learner tablets enable each provider to perform interventions that are displayed on both the learner tablets and the virtual patient shared view.
Instructor Tablet includes tabs for Scenario Control and Learner Assessment. The module automatically records and displays each learner action while treating the patient. The instructor may also note the use of team communication and appropriateness of the actions.
Virtual Equipment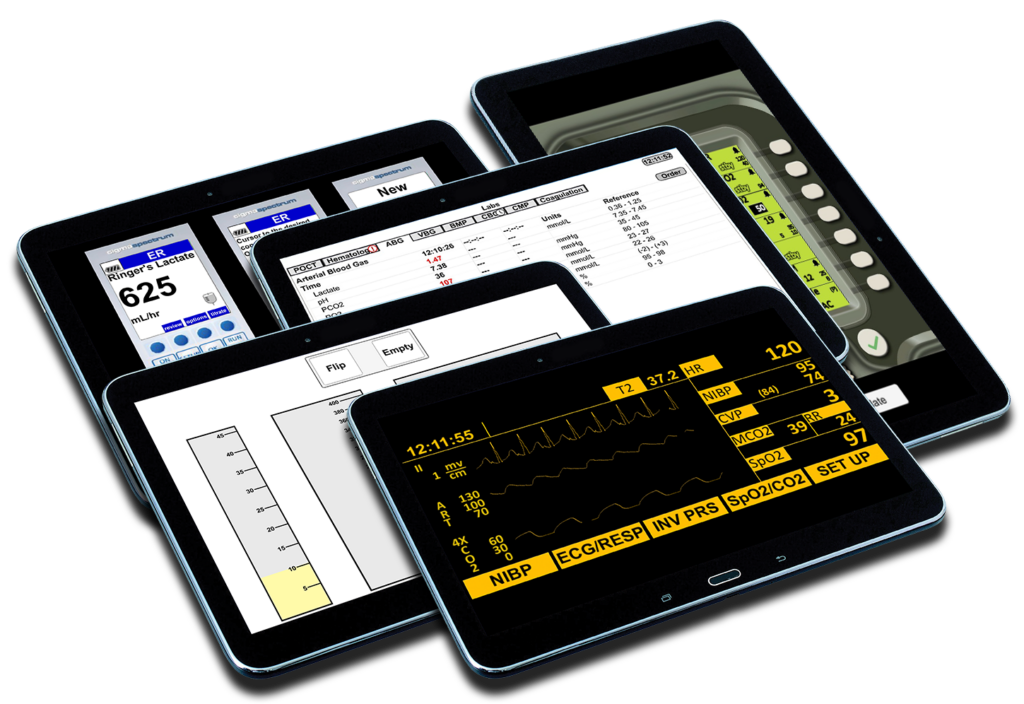 Learners interact with virtual medical equipment, including a ventilator, patient monitor, triple IV pump, urine gauge, and lab reports. Each item of equipment is simulated on a standard touch screen tablet and includes a graphical user interface that functions like the actual medical device.
Compact Core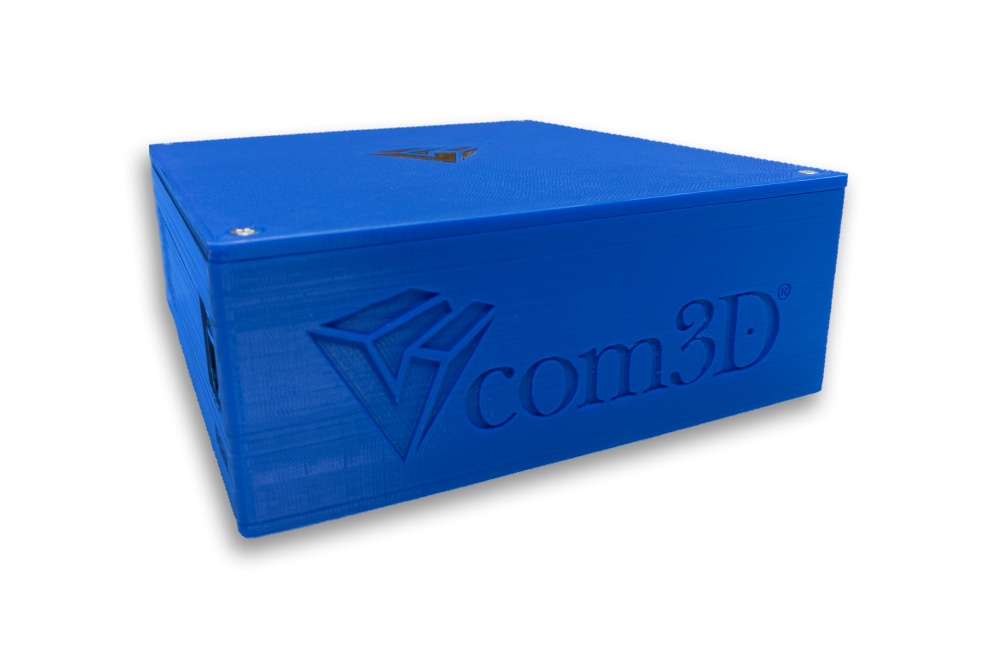 Vcom3D Compact Core includes computer hardware, a wireless router, power sourcing equipment (PSE), and embedded MoHSES core software. The pre-loaded software includes the simulation engine, module manager, and BioGears® physiology engine.
Want to learn more about our products and solutions?
Contact Us