MedSim DevKit™
Vcom3D's MedSim DevKit™ is a developer kit of hardware and software tools that enables you to create your own interoperable medical simulation solutions. This time and money saving kit supports a range of applications, including physical, VR, AR, and Mixed Reality. Using the MedSim DevKit™, you can create or adapt your simulation task trainers and/or modules to plug-and-play with other MoHSES™-compatible* simulation modules to build integrated training systems.
• Physical Modules may include Manikins, Part-task Trainers, Interchangeable Limbs, Medical Equipment, or Wearables.
• Virtual Modules may be virtual patients or virtual medical equipment.
• A full range of AR/VR and Mixed Reality displays can also be supported.
• Create or adapt your own Training Content and Assessments.
• Create High-performance Trainers by integrating multiple modules.
A Baseline MedSim DevKit includes the following:
• Vcom3D's Compact Core (CC)
o MoHSES Core software compiled, configured, and deployed
o Provides power and network
o Open-Source Physiology Engine
o Includes new Assessment Engine
• Application Programmers Interface (API)
• Sample Code
• xAPI outputs to LMS or LRS
• A Vcom3D Virtual Equipment (VE) Tablet
o With seven (7) Medical Equipment Simulation Apps, including two Patient Monitors, two Ventilators (Field and Hospital), Urine Gauge, Lab Reports, and Triple IV Pump
• 4 Hours of Remote Professional Support
Options Available:
• MoHSES™ Universal Segment Connector (USC) to connect to your physical module
• Additional Medical Virtual Equipment Tablets
• Full Range of Professional Support Services
For more info on the MedSim DevKit™, click here.
For more info on MoHSES™, click here.
*MoHSES™ and Modular Healthcare Simulation and Education System™ are trademarks of the University of Washington.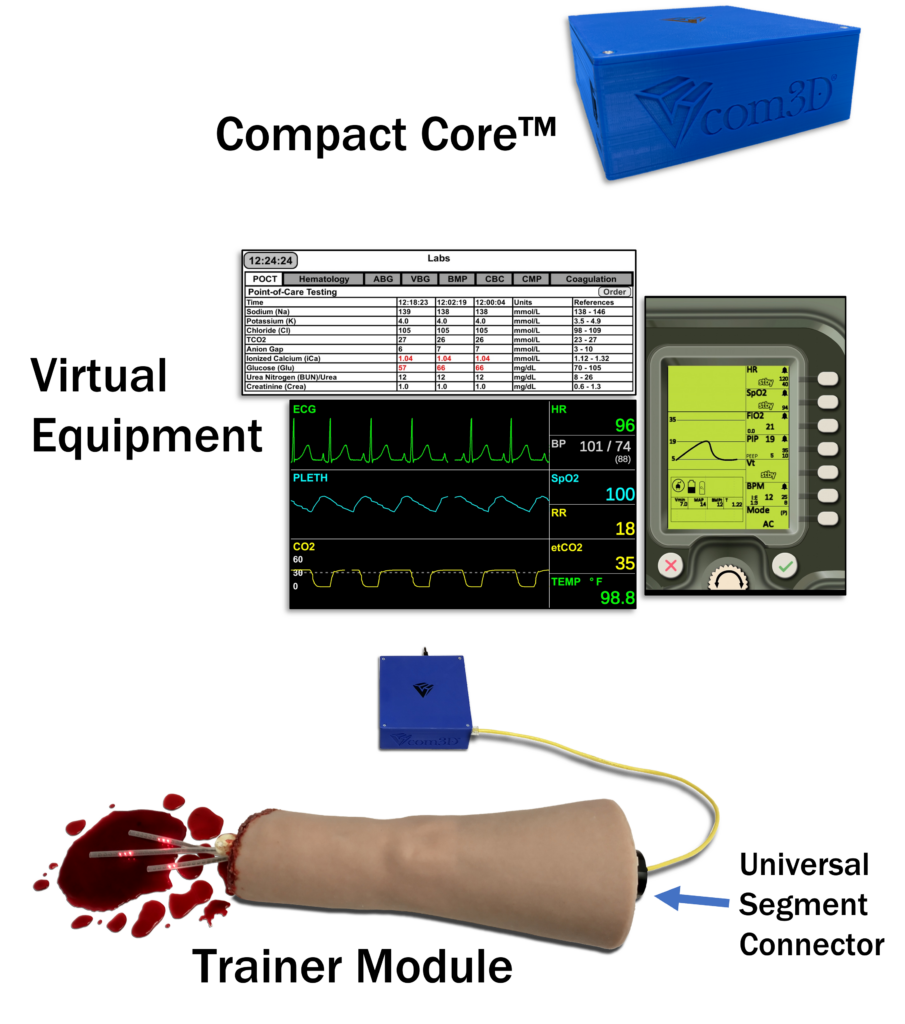 Want to learn more about our products and solutions?
Contact Us